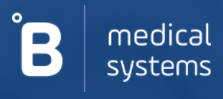 B Medical Systems is a global manufacturer and distributor of medical-grade devices. Throughout our 40+ years of experience, we have been creating innovative solutions to store and transport vaccines, blood components, laboratory specimens, etc across the world safely and reliably. Our commitment to supporting governments, health institutions and NGOs has not only saved innumerable lives but helped communities develop and prosper.
BTC is the Authorized Distributor of B Medical Systems in Nepal
We can't find products matching the selection.
Compare Products
You have no items to compare.