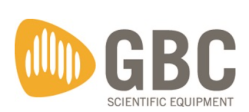 GBC is a major manufacturer of analytical instruments including Absorption Spectrometer (AAS), Inductively Coupled Plasma Optical Emission Spectrometer (ICP-OES), UV-Visible Spectrophotometers (UV-Vis), Inductively Coupled Plasma Time-of-Flight Mass Spectrometer (ICP-oTOFMS), High Performance Liquid Chromatography (HPLC) and X-ray Diffractometer (XRD).
BTC is the Authorized Distributor of GBC in Nepal
We can't find products matching the selection.
Compare Products
You have no items to compare.