Details
Motorised running – The freedom of choice
Olympus offers an impressive range of motorisation and automation tools for increasing the efficiency of routine and complex imaging and screening techniques. This offers the capability to perform more reliable examinations even more quickly, saving valuable time. The automation options work well in unison with each other, but can also be implemented as independent solutions, so users only have to motorise the function(s) they need to. This offers much greater flexibility and cost-efficiency, ensuring that the system is built to suit user needs.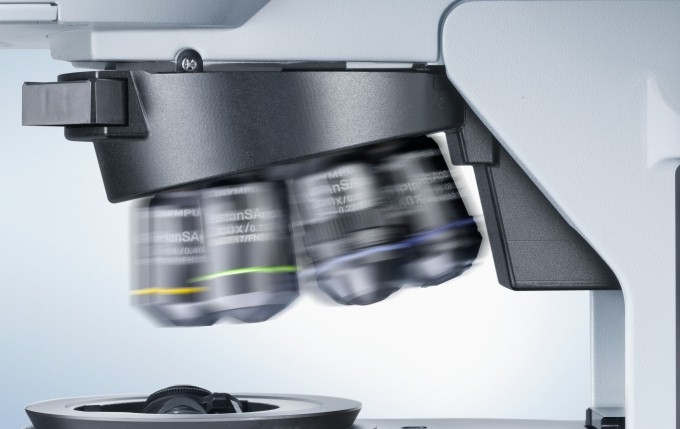 Panoramic Images – Multiple Image Alignment (MIA)
For imaging large areas in high magnification, multiple images are acquired using the motorised stage. These images are then automatically aligned and stitched together by the software into a single high-resolution image. Large areas, even the whole slide, can be imaged efficiently in this way.
Automation of multi-dimensional image acquisition
Multicolour fluorescence images require the acquisition of multiple images using different fluorescence filters. Automating filter switching enables image acquisition with a single click. Acquisition can become complex when different dimensions are combined, such as multicolour, time, XY (MIA) and Z-Stack. Motorisation allows you to automate and thus simplify the process, with all the necessary hardware settings being applied automatically.
Optically ahead of the curve – The UIS2 optical system
The UIS2 high NA objective lenses offer very high resolution to enable detailed observation with excellent correction of all optical aberrations, such as field curvature and chromatic and spherical aberrations, allowing the user to see all properties of the sample clearly. All common observation methods are supported
The BX53 system can grow as more applications are required. Bright field, dark field, phase contrast, polarisation, DIC and fluorescence are all options which can be either incorporated at the outset or upgraded later.
DIC contrast that matches your specimen exactly
Three differential interference contrast (DIC) options are available: one for thick specimens, one for thin specimens and a universal DIC. This variety ensures optimal observation for different thicknesses of specimen at every magnification level. Related components
SPECIFICATION
Optical system
UIS2 optical system
Focus
Coaxial coarse and fine focus with stage up and down mechanism
Focus stroke 25 mm
Coarse stroke 15 mm/rotation
Fine stroke 100 μm/rotation
Graduation on fine focus 1 μm
Prefocusing limit stopper and torque adjustment on coarse focus
Illuminator
Built-in Koehler illumination for transmitted light
Light intensity LED indicator, Built-in filters (LBD-IF, ND6, ND25) 12 V, 100 W halogen bulb (pre-centered)
Revolving nosepiece
Interchangeable reversed quintuple/sextuple/septuple nosepiece
Encoding optional with septuble nosepiece
Motorized septuple revolving nosepiece
Observation tube
Widefield tilting, telescopic and lifting binocular, inclined -3°-27°
Widefield tilting trinocular, inclined 5°–35°
Widefield trinocular, inclined 30°
Widefield erect image trinocular, inclined 30°
Widefield tilting binocular, inclined 5°–35°
Widefield ergo binocular, inclined 0°–25°
Widefield binocular, inclined 30°
Super widefield trinocular, inclined 24°
Super widefield erect image trinocular, inclined 24°
Stage
Ceramic-coated coaxial stage with left or right hand low drive control, with rotating mechanism and torque adjustment mechanism, optional ergo grips available (Non stick coated grooved coaxial, plain, rotatable stages are also available)
Condenser
Swing out achromatic condenser (N.A. 0.9), for 1.25x–100x (swing-out: 1.25x–4x)
Achromatic aplanatic condenser (N.A. 1.4), for 10x–100x
Phase contrast, darkfield condenser (N.A. 1.1), [phase contrast: for 10x–100x, darkfield: for 10x–100x (up to N.A. 0.80)]
Universal condenser (N.A. 0.9), for 1.25x–100x [swing-out: 1.25x–4x,with oil top lens:(N.A. 1.4)]
Low magnification condenser (N.A. 0.75), for 2x–100x (Dry)
Ultra low magnification condenser (N.A. 0.16), for 1.25x–4x
Darkfield dry condenser (N.A. 0.8–0.92), for 10x–100x
Darkfield oil condenser (N.A. 1.20–1.40), for 10x–100x
Motorized universal condenser (N.A. 0.9, motorized 8-position turret, Aperture stop, polarizing filter in/out mechanism and top lens swing out mechanism), for 1.25x–100x [swing-out 1.25x-4x, with oil top lens: (N.A. 1.4)]
Fluorescence illuminator
Manual reflected fluorescence, 8-position mirror turret unit, encoded with tool-free exchange of filter cubes
Motorized reflected fluorescence, 8-position mirror turret unit, encoded with tool-free exchange of filter cubes
Fluorescence light source
100 W Hg apo lamp housing and transformer
100 W Hg lamp housing and transformer
75 W Xe lamp housing and transformer
Fibre coupled metal-halide lightsources
Fibre coupled LED lightsource
Controller
Optional: Control box for semi-motorised setups
Operating environment
Indoor use
Ambient temperature : 5 º to 40 ºC (41 º to 104 ºF)
Maximum relative humidity : 80 % for temperatures up to 31º C (88 ºF), decreasing linearly through 70 % at
34 ºC (93 ºF), 60 % at 37 ºC (99 ºF), to 50 % relative humidity at 40 ºC (104 ºF)
Supply voltage fluctuations : Not to exceed ±10 % of the normal voltage
Product Tags